Supplementary lessons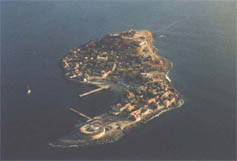 These are culturally related lessons that have been used in first year Wolof classes at UCLA. They are recommended as supplements to the video-based lessons. They would be appropriate for second semester Wolof students.
Senegaal, Rééwu Terànga (Senegal, Land of Hospitality)
The lesson describes modern Senegal and some of the important features of the country and people who have shaped the nation.
Senegal History and Ethnicities
The lesson gives some of the background of the early history of what is now Senegal and the various ethnicities that comprise its people.
Senegal History and Ethnicities
Dakar and Gore
The lesson describes the capital of Senegal, and historical Gore Island.